To promote improvements in the quality of the clinical transfusion process, which is defined as:
Transfusion of the right unit of blood to the right patient at the right time, and in the right condition and according to appropriate guidelines.
The outcome, optimal use of blood is defined as:
The safe, clinically effective and efficient use of donated human blood
Safe: No adverse reactions or infections.
Clinically effective: Benefits the patient.
Efficient: No unnecessary transfusions. Transfusion at the time the patient needs it.
The manual is a resource for improving safety and effectiveness of the clinical transfusion process and promoting the optimal use of blood components across the EU through sharing of information and best practice.
What the Manual covers
Included
Guidance and resources to begin the development of a quality system for the clinical transfusion process.
Excluded
The collection, processing or testing of blood; blood bank technical practice; and the preparation and use of human plasma derivatives, as these products are licensed pharmaceutical products governed by other EU legislation.
The Clinical Transfusion Process in EU Countries
Details of the clinical transfusion process and its infrastructure vary among EU countries but there are essential steps that are common, shown in Figure 2.1.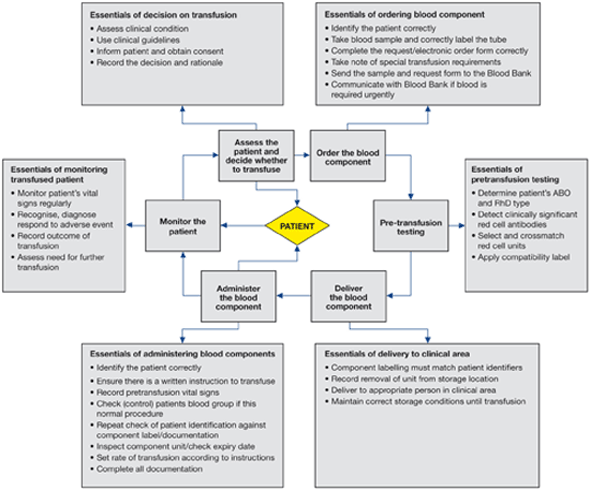 Intended audience
The manual is intended for Hospital Transfusion Committees and for medical, nursing and laboratory staff who have responsibility for patient safety and the quality of care in relation to blood transfusion. It should also be of value to other personnel who are concerned with quality improvement, risk management, accreditation, training and assessment. Patients concerned about safety of transfusion may also find it useful.